The MIT-WHOI Joint Program provides a high quality graduate education leading to an internationally-recognized doctoral degree awarded by both institutions. Increasing representation, having a diverse student body, and advancing inclusion are critical to the MIT-WHOI JP's mission, and to the missions of both MIT and WHOI.
Joint Program Disciplines
Cross-disciplinary Studies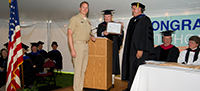 For U.S. Naval Officers, the application deadline is October 1, 2022 for 2023 enrollment. The Joint Program offers a master's degree program for U.S. Naval Officers, and more than 85 officers have received this degree dating back to the first award in 1970. With the exception of the U.S. Naval Officers program, students are not admitted to the Joint Program for a master's degree.
More info »
Example Curricula »
General Information
New application deadline is December 15 for prospective doctoral students.
Recent Joint Program Graduate Destinations
| | |
| --- | --- |
| Research institution or university | 62% |
| Private company or corporation | 19% |
| Government | 10% |
| Unknown | 2% |
| Other academic | 3% |
| Other | 4% |
2021 Joint Program Numbers
| | |
| --- | --- |
| Joint Program Applicants | 343 |
| Offers of Admission |   40 |
| Entering Students |   25 |
| Students in Program | 153 |
| 9/2021-6/2022 Degrees Granted |   27 |