Welcome to the Alumni Community
The MIT-WHOI Joint Program has recently awarded its 1000th degree!  Graduates are working all over the world in diverse areas including research institutions, liberal arts colleges and high schools, museums, government, private industry, NGOs, and science journalism, just to name a few.
This website has been created to facilitate networking among graduates, to exchange career information with current Joint Program students, as a resource for prospective students, and to keep information about each alumnus for the Academic Programs (formerly Education) Office up to date.
50th Anniversary Events
We celebrated the 50th anniversary of the MIT-WHOI Joint Program in 2018.  In July, an alumni reunion attended by close to 100 alumni and their families was held on the Quissett Campus in Woods Hole.  In September, a symposium consisting of talks by five alumni and other dignitaries, a reception, and a dinner were held at MIT.  The following day, lab tours, poster sessions, and a reception and dinner were held at WHOI.  For details, pictures, and a link to the symposium, see the 50th anniversary website.
Oceanus magazine article: MIT-WHOI Joint Program Marks 50th Year: Unorthodox partnership remains an educational "jewel"
Join the Alumni Listserv
Keep up with MIT-WHOI Joint Program happenings by joining the JP alumni listserv. Contact alumni@whoi.edu with your name and preferred email address.  Personal email addresses are preferred because professional ones seem to change more frequently.  We promise to keep mailings to a minimum.
There's also a listserv for employment opportunities called jpjobs@whoi.edu.  Feel free to sign up for that or to send job openings that may appeal to Joint Program graduates.
Next Wave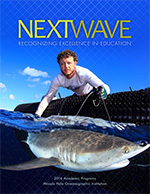 Next Wave is published by WHOI at the end of each calendar year and showcases the many accomplishments of MIT/WHOI Joint Program students as well as WHOI postdoctoral researchers and undergraduates.
Related Links
Related Files